You are considering two flats, but you're looking for a lot of clarification, aren't you? Well, this is the most comprehensive guide to the frequently asked questions about the two flats…ever!
This guide will find everything you need to know about two flat homes. It includes the ultimate guide to constructing, financing, and renovating 2 flats. I will also give you tips on how to get cheap apartments to get the most out of two-flats and what to do if you can't afford a home renovation.
In fact, there are many people out there who have never done flat hunting or renovation before. So, for example, they might not know the legal procedures and how to find a good lawyer when needed!
If that sounds familiar to you, luckily, I've got you covered.
This guide will help you understand everything about flat hunting and renovation. From choosing the right place in this market, the cost of improvement, and selecting the best type of lease – you will also know how to divide your home into flats and how much it costs to improve a home? Which renovation adds the most value to a home? And how high should a two-story flat roof be?
Let's dive right in:
Building:
Q. What is a two flat house? Or what is 2 flat property?
Basic question!
According to my latest research, three sources in total give the best answer to whats a two flat.
According to WBEZ Chicago's The Tale of the Two Flat, "The typical building: two stories—with an apartment unit on each floor, usually with bay windows greeting the street through a brick or Greystone facade. Between 1900 and 1920, Chicago built most of these types of flats."
The DePaul Institute of Housing Studies says, "two flats have been called a 'workingman's palace." The durable brick facade, bay windows, enclosed porch, and narrow footprint: Call it a workingman's palace.
Do you know? Sometimes these two flat homes are also known as duplexes.
The Chicago Magazine writes, "Chicago 2 flats are the response to Georgetown Row House and Brooklyn Brownstone."
With one exception, Chicago's two flat floor plan, despite being cheaper, are still performing what was envisioned in the 20th century. That is, to provide shelter and a source of income for families trying to move beyond crowded housing.
Fun fact:
The Chicago Tribune, in its August 2022 reports, "Chicago's Two, and four flats comprise 26% of the Chicago's housing stock."
Q. Why The Two-Flat Became So Popular?
In fact, 2 flat buildings have enjoyed great popularity throughout the 1900s because they were more affordable than single-family residences.
In addition, Two flat buildings allowed people to inhabit a larger and more spacious home without paying as expensive as a single-family home.
Q. What's the most important factor when choosing a 2 flat property?
Interesting Question!
In my opinion, the most important factor when choosing a property is location. Of course, I also want to consider a few other factors, but the location is key when selecting a property.
Let's investigate all of them:
1# Location:
Location is key when it comes to choosing a property. When choosing a home, you should consider its location concerning amenities and other important conveniences, such as grocery stores, schools, and public transportation.
You'll also want to consider the area's climate – because you don't want to live in a place that is too hot or too cold.
Another thing to keep in mind is the Size.
2# Size:
Make sure the apartment can comfortably accommodate your needs. If you're looking for a place to live, you'll want to make sure the flat is big enough for your needs – Whether you're looking for a place to live or run your business.
If you're looking to invest in property, you'll want to make sure the size of the property will allow you to earn a good return on your investment.
3# Security:
Another one of the major factor that you need to check when picking a house is the region's security.
Some residential communities and homes provide more security measures for a higher price.
You could want to think about looking for a new residence in that location, or you could also choose to set up your own security system.
4# Price and Taxes:
Price is a vital element to think about when planning to purchase or rent a new home. Therefore, researching residential areas that fit your budget is usually a good idea.
5# School and College:
Everyone hopes their children will obtain a good education and attend a great school. Therefore, buying a flat/house near a school or a college will go a long way in facilitating your life.
Just a few miles from a good school or a college, buying a flat can prove advantageous for many reasons. Aside from ease of living, it also offers the potential for investing your money.
6# Public Transportation:
The number of minutes it takes to get home or work may be a factor in your decision to choose a property. Many cities offer a convenient public transit system.
Even if you already own a car, you may want to consider buying a home nearby. This will likely save you the cost of commuting and petrol and vehicle maintenance expenses.
Q. How to determine which neighborhood to buy?
That's a good question!
It's always important to take care of the neighborhood when buying a house or a flat if you have a family.
There are a number of things you can get a better sense of about whether a neighborhood feels good or not.
1# Neighborhood Watch Group:
This may not be a deal breaker, but it s something some families value.
These groups can help prevent crime by providing an extra set of eyes and ears to monitor suspicious activity. Ask local law enforcement agencies when considering a neighborhood.
Or, you can also contact a road sign that designates the area for a watch group.
2# Essential Amenities:
Map out the areas where the place is within a short drive of the nearest pharmacy, grocery store, and department stores.
Make sure they are close, and the stores you want are there.
If these outlets are not easily accessible to your home but are on your way to work, school, or daycare, it may also affect your choice.
3# Accessibility:
Find a flat near the main road, where there are many entrances.
Traveling between home and your business may be essential to many people's lives.
So, acquire a place that's well accessible from roads and transit networks.
Q. How Long Does It Take To Build A Home?
According to the latest 2022 U.S. Census Bureau survey, "In 2021, it took an average of 15.4 months to build a home with multiple units from start to finish."
The time from start to completion of privately financed residential buildings with 2-3 units in the US decreased by 0.4 months in 2021.
Here I have drawn a chart for your better understanding.
Fun fact:
"In 2021, constructing one-unit buildings took around 7.2 months on average, and in 2022, new residential buildings in the United States will surpass a value of more than $800 billion.", according to the Statistics Research Department.
Q. Can I Split My House Into Two Flats? Or Vice Versa?
Yes, of course!
It is possible to divide your home into 2 flats or the 2-flats in a house!
All you need to do is take care of the following to-dos:
1# Get Planning Permission:
You need to get planning permission from your local council and follow their rules to divide the house into flats. This process can be complicated and may take some time, so it is best to move on to the next point, i.e.
2# Consult a Solicitor or Property Lawyer:
Yes, Check out a solicitor to understand the legal process and what to expect when you split a house into two flats.
They can also help you negotiate the best deal possible and ensure all the necessary paperwork is in order.
Lastly, if something goes wrong with the sale and purchase of your property, a lawyer can help resolve the issue.
3# Property Is Suitable:
Make sure that the Property Is Suitable for splitting into 2 flats and that both apartments are of a similar size and meet certain quality requirements.
4# Building Warrant:
You will also need to get a Building Warrant to ensure that the work is done safely and follows all local building rules.
5# Certificate Of Occupancy:
You will also need a Certificate Of Occupancy from the council to ensure it meets all the required safety standards.
Q. How high should a two story flat roof be?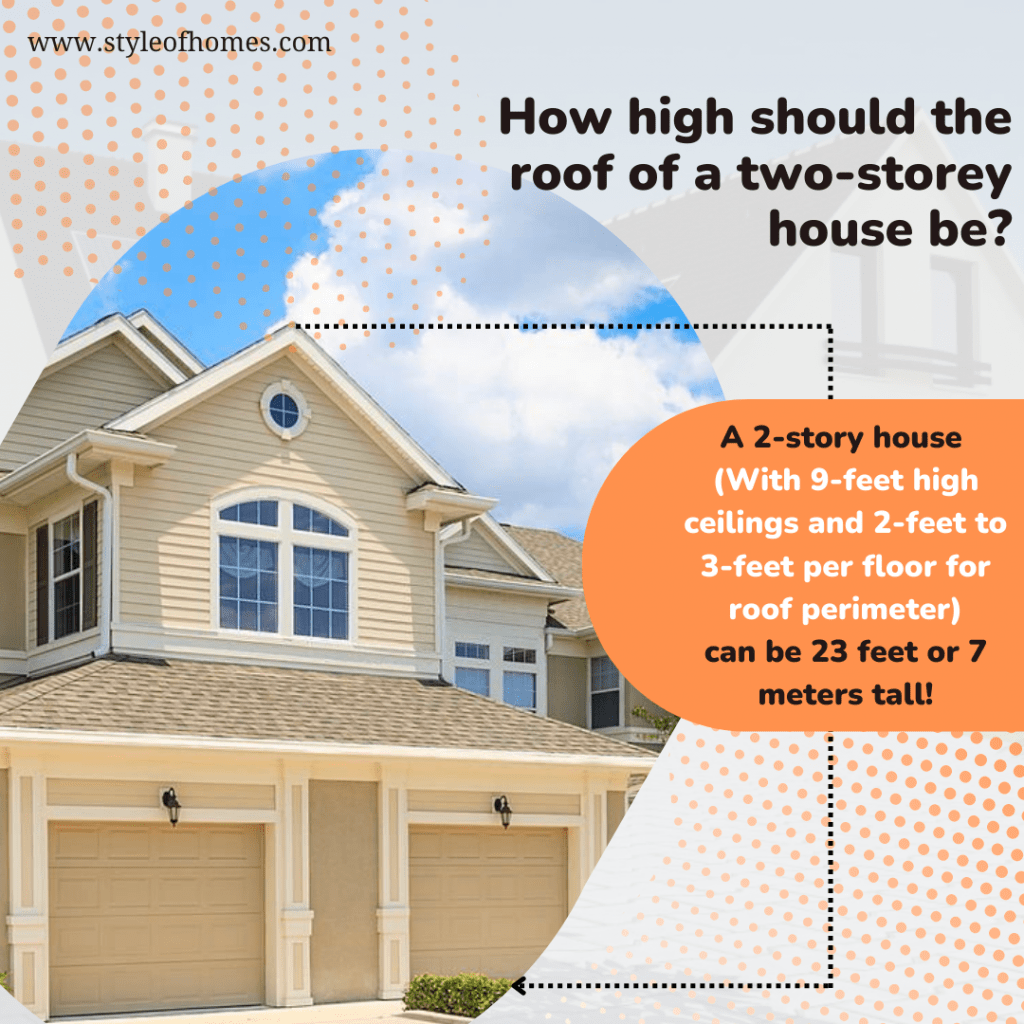 It depends!
Generally speaking, 2 flat-story roofs can be 23 feet or 7 meters high in the US and UK.
A 2 story house (With 9-feet high ceilings and 2 feet to 3 feet per floor for roof perimeter) can be 23 feet or 7 meters tall!
It comprises 9-feet high ceilings and 2 feet to 3 feet per floor for ductwork & structure. It then takes up an additional 1 meter or 3 feet for the roof perimeter or extension wall, and a two-storey flat-roofed house gives you a total height of 23 feet or about 7 meters.
Houses are prominent in terms of size. As a result, high ceilings look more beautiful and are usually listed as a feature in real estate. But, extra high-rise roofs also look unusual and visible, unlike standard high-rise roofs.
Fun fact:
Under the Eugene Municipal Code, the height limits for two story flat roof structures shouldn't exceed 36 feet. Therefore, the height of a 2 story flat roof is fine as long as it's under that limitation.
The Money
Q. How Do You Decide If You Can Afford The Investment Property?
Great Question!
Here I have a set of 3 questions below to determine if you should go for an investment property right now.
1# Do you have an amount in hand?
The minimum deposit to get an investment property loan can often be around 10%, sometimes even much less.
Paying less means you have to go for LMI Insurance. "This is typically required by the lender when the loan-to-value ratio is greater than 80%, meaning that the loan amount is more than 80% of the property value.", writes Investopedia.
The bigger your deposit, the less cash you will have to borrow.
Further, your mortgage broker can help you determine the minimum requirement for an investment property loan.
2# Are You Aware Of How Much Money Is Always Coming In?
Having an investment property requires more than simply an investment deposit. You must also be able to manage other property expenses and ongoing expense payments.
Calculate your cash flow to determine if you already have the income to maintain your property. Your mortgage lender will compare your cash flow to the costs of owning an investment property to verify that your finances can support it.
3# Will This Particular Investment Property Match Your Plans?
I think you should plan to keep your property for at least 5 to 7 years. Also, It is important that the rental property plan is suitable for your purposes.
Of course, we can't predict what the future will hold, but having a plan in place for your rental property lets you know how it will be attractive to you in the near future.
Q. What type of property should I go for? Leasehold or Freehold?
There's no question about it!
Freehold Property is definitely the way to go if you're looking for a great place to invest!
If you own a leasehold property, you own the building but do not necessarily have land under it.
A Freehold property means the owner of the house owns the building as well as the land.
Historically, this has been common in England and Wales, but new construction is increasingly being offered as a freehold.
Remember! Verifying whether a flat is a leasehold or freehold is always important. Then hire your solicitor to check whether the property was represented accurately.
Q. How to get a cheap flat in the market?
Is it certainly possible?🙆
Yes, it is! For that, you should consider the Government Home Ownership Schemes!
The government offers subsidized housing to low-income households and eligible individuals at prices well below the market price. Discounts range between 30 percent and 40 percent.
Q. Do you need separate mortgages for different flats?
No, you don't need separate mortgages for different properties. However, you can secure a mortgage against multiple flats using a multi-property mortgage.
This type of mortgage allows you to borrow against multiple properties at once.
It's a convenient option if you're buying multiple properties or want to consolidate your debt. However:
You should consult with your lender to ensure that the terms of your mortgage allow for this.
The total amount you can borrow will be based on the value of the properties and your credit score.
It's important to note that the property you use as security for the mortgage must be worth more than the mortgage amount. Otherwise, the lender could seize the property if you default on your loan.
Renovation:
Q. How Do You estimate the costs of renovation?
This is the question people always ask!
To estimate the renovation costs, you need to know the project's scope. It includes:
The square footage of the space to be renovated,
The type of materials you will use, and
The labor cost.
You can get ballpark estimates for each of these factors from online sources, or you can consult with a contractor. Once you have estimates for all the components, add them up to get a total cost for the renovation.
Q. How Much Do Home Renovations Cost?
Well, that depends!
The cost of Home renovations can vary greatly depending on the size of your building, the extent of the renovation, and the materials you choose.
According to Raltor, for a 2,500 square feet building, you can expect to pay anywhere from $5,000 to $50,000 for a major renovation. However, it is important to remember that costs can increase if unexpected problems are uncovered during the renovation process.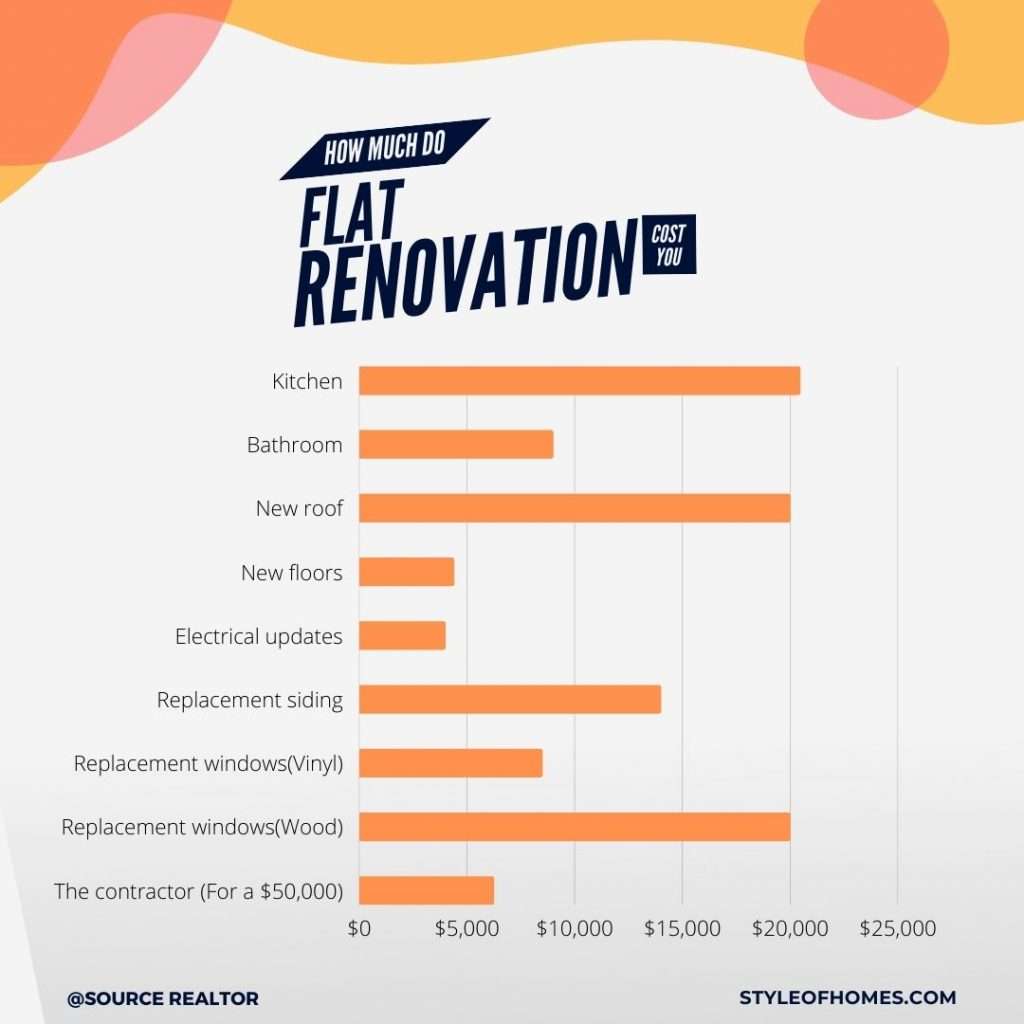 Q. What Home Renovations Pay Off?
It depends!
Generally, basic repairs and upgrades, like a new roof or windows, will pay off by increasing the flat's resale value. However, more extensive renovations, like a complete kitchen or bathroom, remodel, may not be worth the investment if you plan to sell soon.
Investopedia has some advice for investors looking at payback times on projects. They say, "There are several sources offering insight into expected returns."
Remodeling Online provides homeowners with the data to make an educated decision about their next home improvement project. In addition, they publish a report annually that shows what projects cost in terms of time and money as well as how much you can expect their worth when it comes down to profit or loss after completion.
So, if you're planning to renovate your flat, do your research and be strategic about which projects you take on. With a little planning, your renovations could pay off in the end – literally!
Q. Are Home Renovations Tax Deductible?
Uh, there is no universal answer to this question!
But the tax deductions you can claim for renovations will vary depending on your tax situation.
However, in general, renovations that increase the value of your home may be tax deductible, while those that are simply for aesthetic purposes are not.
Even then, to determine if a specific renovation is deductible, it is best to speak with a tax specialist.
Q. What to do if you can't afford a home renovation?
It looks like a bad case!
From my perspective, If you can't afford a home renovation, there are a few things you can do.
To get creative and do some of the work yourself.
Prioritize the areas of your home that need the most attention.
Look for affordable home renovation options.
Ask for help from family and friends.
Look for grants or funding opportunities to help you pay for the renovation.
Shop around for the best deals on materials and labor.
You can try to negotiate a lower price with the contractor.
Q. what renovations increase Home value the most?
In my opinion, there is no definitive answer to this question, as the value of a renovation will vary depending on a number of factors – including the specific market in which the building is located.
However, some renovations that are often seen as increasing a home's value include:
Updating or adding kitchens and bathrooms,
Installing new windows or siding,
Finishing unfinished basements, and
Renovating the exterior of the home.
Q. What Home Renovations Require A Permit?
Of course! Many renovations require a permit.
Some common ones are: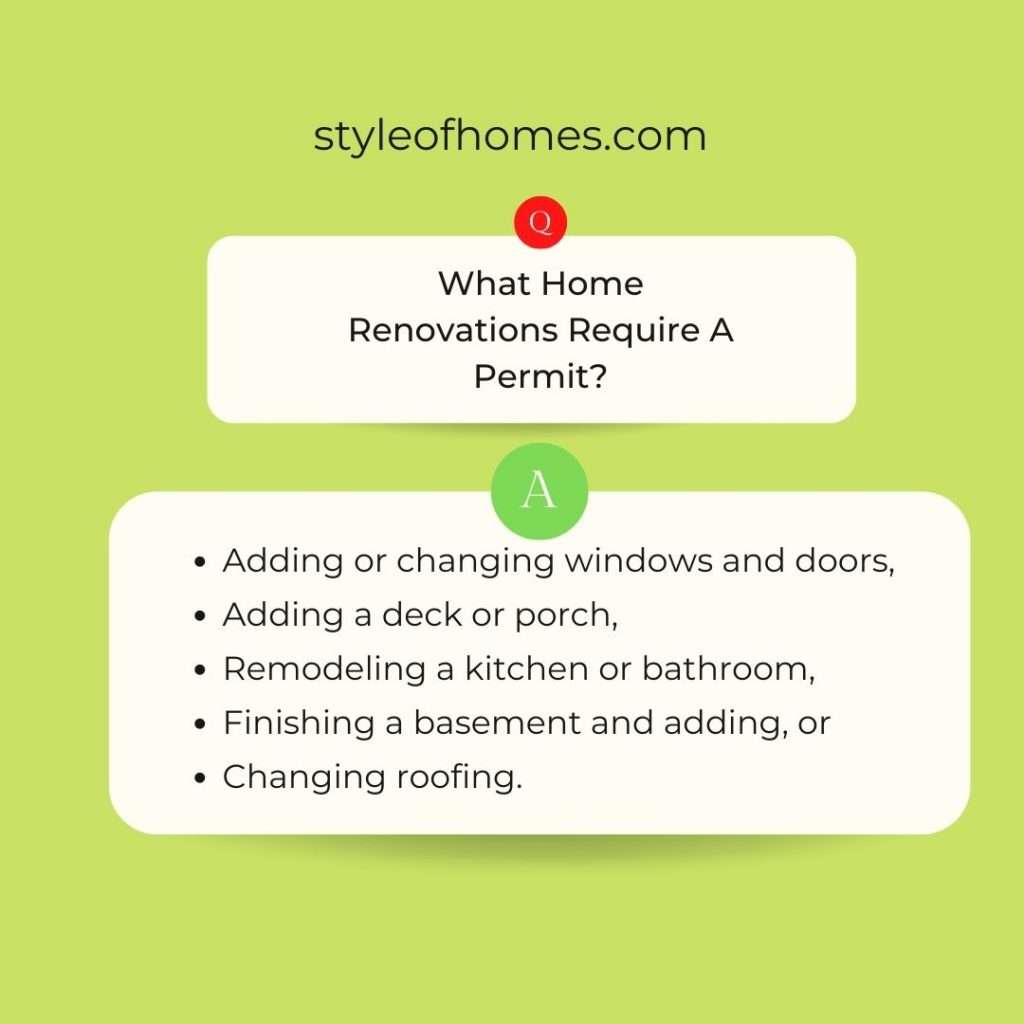 Adding or changing windows and doors,
Remodeling a kitchen or bathroom,
Finishing a basement and adding, or
I believe some minor renovations, like painting or changing your flooring, may not require a permit.
But it's always best to check with your local government to be sure.
If you do decide to do a renovation without a permit, and something goes wrong, you could be fined or even have to tear the renovation down.
So, make sure to check with your local municipality to see what specific renovations require a permit.
Q. How to finance Home Renovation?
A Great Question! Let's do this.
There are a few different ways to pay for renovations when buying a home.
Another option is to take out a personal or home improvement loan. These loans are specifically for home improvements and usually have lower interest rates than other types of loans.
You could also use a credit card, but that's not generally recommended because of the high-interest rates. Whichever option you choose, be sure to shop around for the best interest rate and terms.
Q. How To Find A Contractor For Home Renovations?
Huh, that's a really good question!
Here are three tips you can use to find a contractor for your home renovation.
Ask friends, family, or neighbors for recommendations.
Search online for reviews of local contractors.
Contact your local home builders association for a list of member contractors.
Q. How to get on a home renovation show?
Interesting Question!
From my perspective, the best way to get on a home renovation show may vary depending on your qualifications and experience.
However, some tips on how to get on a home renovation show include:
Being well-versed in home improvement and construction.
Having a strong social media presence.
Being able to showcase your work through video or other media.
Start by contacting the production companies that produce these shows and sending them your story and portfolio.
Make your home look as appealing as possible; this means cleaning up the yard, repairing any damage, and ensuring the interior is neat.
Be prepared to answer questions about your renovation plans and budget.
Conclusion:
Okay, now I wish to hand over the task to you.
Which of the 21 answers to the two flats of today's post do you like the most?
Are you going to buy or renovate your 2 flat house?
Or maybe, you come across any resources that I need to include here?
Either way, let me know by leaving a comment below right now.